Strategic Site Redesign: Capital City Arts Initiative
This project started during a lunch date with Sharon Rosse, the founder and director of the Capital City Arts Initiative, or CCAI.
We were chatting about web design, and I mentioned web strategy.
"What's that?" she asked.
So, I asked her one of the first questions I ask all of my clients, "What's the goal of your website?"
She stared at me blankly. "What do you mean?"
"I mean, why do you have a website? What's the purpose? What do you want people to do when they get there?"
Her eyes widened, a little alarmed, as it hit her. She had no idea, and if she didn't know why she had a site or what it was supposed to do for her organization, neither would anyone else.
We proceeded to spend the rest of our lunch clarifying her site goals, and we were off and running with a strategic re-design.
We didn't rebuild the site from scratch, at all. Instead, we re-organized and combined pages to achieve clearer communication, removed information that was no longer relevant, streamlined the menu, and simplified the site to highlight current art shows and communicate exactly what CCAI does.
We also revised the site copy on every page to make it consistent across the site.
The Homepage Re-Design
Here's CCAI's homepage BEFORE we began our redesign. At first glance, there are a couple of problems that jumped out at me.
1) There's no Homepage Headline. What does the CCAI do? Where are they located? Who do they serve?
A website should communicate this information immediately, so we added copy in two places. On the header we added, "A non-profit visual arts organization." Below the navigation/menu we added a clear homepage headline.
2) Facebook is EVERYWHERE! It's in the header with the word "follow." There's also a listing of the most recent FB posts below the big homepage image.
There are some who might disagree with me on this point, but if you get somebody to your website, WHY would you immediately send them to the blackhole of FB, never to be seen again? Now, I'm a FB user, both personally and for my business, but I'd rather have people on my website as that's where my business is!
To recitfy this, we completely removed the FB page feed from the homepage and added the "follow" link to the footer.
3) The big slider image and sidebar are unclear. What are these images? There's a little caption below the picture that says that it's an exhibition, but that needs to be bigger and much more clear. The sidebar is confusing as well with all of the little tiny thumbnail images. What are these pictures?
To address this, we added a heading to the images which says "Current Exhibitions and Events" so visitors now know what they're looking at.
We also completely removed the sidebar from the homepage as it was unnecessary and visually made the page crowded. These pictures are all on other pages and highlighted on the CCAI Around Town page, so there was no reason to have them on the homepage.
4) Finally, the footer was huge. It was almost a quarter of the whole page with everything all shoved over to the left side for some reason.
To fix the footer, we organized it into narrower columns which made it not quite so huge.
Finally, one of the goals of the organization is to grow their reach, so we added a newsletter optin bar up at the top above the fold. And, CCAI has finally started to get optins to their list with this form.
CCAI's New Homepage
The Menu Reorganization
CCAI has been around for over a decade, so they had a ton of information on their site. They also had program information for programs that were no longer active. There were long dropdowns but the titles didn't really convey what each page was about.
The About tab also had four drop-downs, some of which we combined into one page.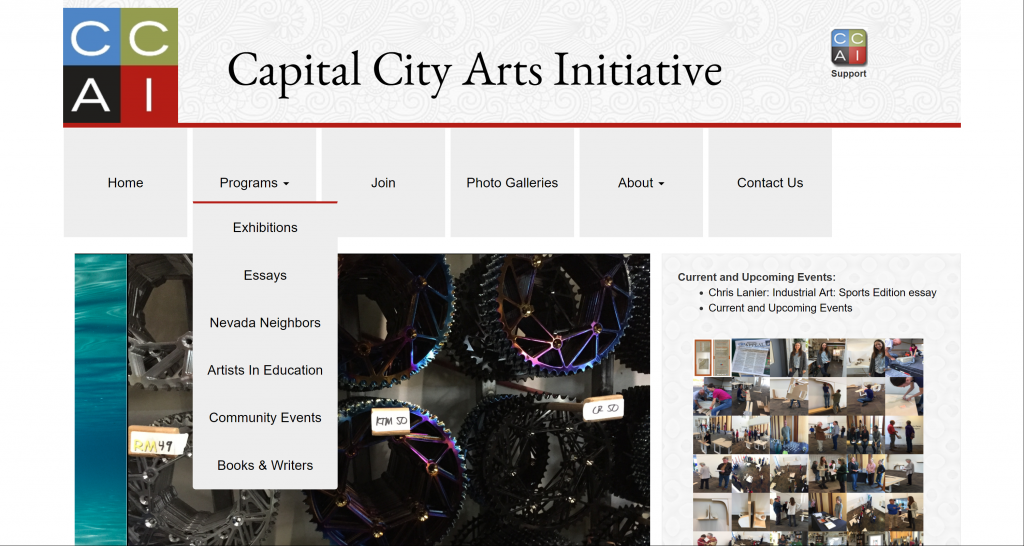 To tackle the navigation confusion, we streamlined it dramatically. We added another gray box to the main navigation and removed all drop downs except for four items under the about page. To decide what to include and cut, we focused on the organization's goals which is to get people to attend their local exhibitions and art talks, so that's what ended up in the main navigation.
We also added a visual "breadcrumb." Note that the Home link is blue. This lets visitors know which page they're on as they navigate through the site. This is important for ease of use of a website.
Page Content
One of the final changes that we made to the site was on the actual pages. CCAI had posted all of their exhbitions and events in big lists. It was unclear as to what was currently happening.
So we added a structure to each of the main pages and divided all of them into Upcoming, Current, and Past events/exhibitions/talks. Again, this allows people to know what exhibitions or talks are happening NOW, so they can participate in Carson City's arts community.
Consistent Copy
The CCAI runs on private donations and funding from grants, but the copy on the site was inconsistent and a little confusing. If you look at the image of the old site's header, you can either "join," "donate," or "support" CCAI.
Were these different ways of supporting the organization? It turned out that they all led to the same page. We changed the wording in the header, the footer, and on any of the pages that mentioned donating to "support" as that communicated CCAI's goals a bit more clearly.
Conclusion
I thoroughly enjoyed working with Sharon and her website. We didn't re-do any of the branding or the logo. We updated the copy, re-did the navigation/menu, and restructured the homepage and internal pages to increase communication and engagement.
Sometimes websites don't need complete overhauls. They just need updating and streamlining.
"Amy expertly identified the problems with our website and offered solutions to help CCAI tell its story much more clearly. Now site visitors will know what we do, rather than having to guess, and their "call to action" is right up front. It was great working with Amy. She communicated her ideas clearly and professionally, then made the changes so the whole project came in on time. In addition, all the website changes look great when I check the site on my phone."  Sharon Rosse, director, Capital City Arts Initiative